June 19, 2023
We are BERRY excited to introduce you to the namesake for Julie Berrycake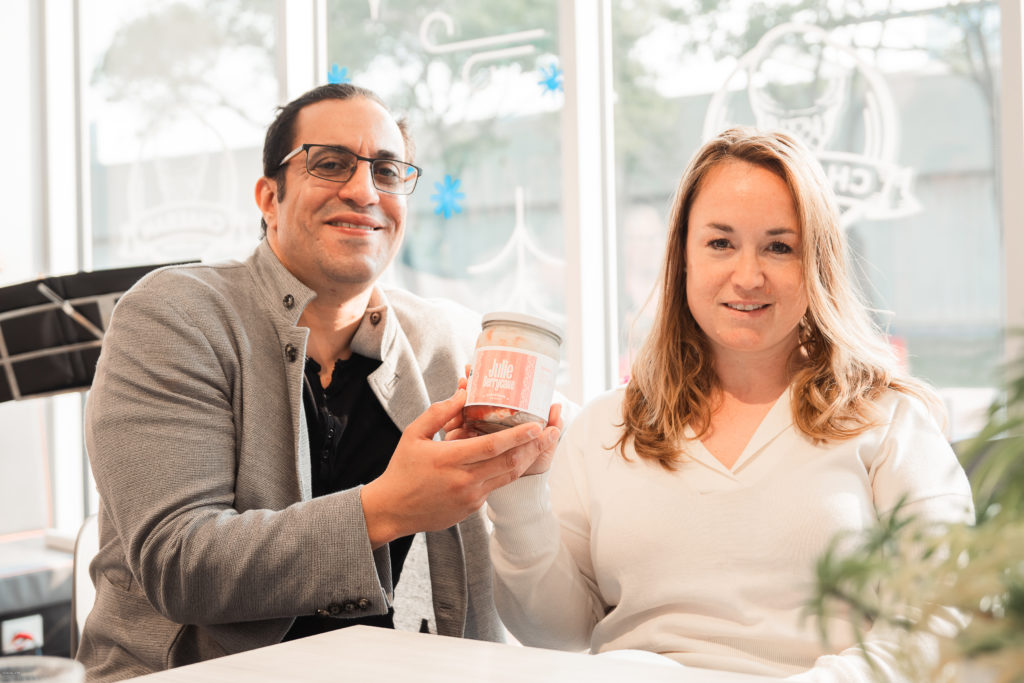 We continue our tradition to honour a real-life community hero namesake with each of our monthly feature flavours. Last month's local hero was Michelle Cameron, the owner of Dreamcatcher Promotions.
In June, we will be making an absolutely new dairy flavour – Julie Berrycake. 
The official dessert of summer is here –  Julie Berrycake. Julie Berrycake is our take on Strawberry Shortcake Ice Cream. It is made by combining our creamy dairy base with our luscious strawberry sauce.  Then chunks of house-made shortcake are added to provide a buttery and slightly crumbly texture that adds a delightful contrast to the smoothness of the ice cream.
This month's community champion is Julie Donaldson. Born and raised here in Winnipeg she is the owner of Home Instead Winnipeg and a graduate of the Asper school of Business.  
Giving back to the community is passion of Julie's, both with charity work and providing opportunities for new Canadians to enter the job market as Care Professionals with Home Instead – nearly 1000 to date!
Home Instead 'Be A Santa' program she started in Winnipeg that has donated over 80,000 gifts to older adults in our community. 
Additionally, Julie continues giving back to the community by supporting local businesses as a business coach through the Accelerator Program of the Enterpreneurs' Organization.  In this role, Julie had coached Joseph Chaeban for many years, all as a volunteer. Thank you, Julie!
In honour of Julie, we will be donating $1 from every pint of Julie Berrycake sold to Julie's chosen charity – Alzheimer's Society of Manitoba, in memory of her grandmothers Sylvia and Kathy. Home Instead will match every $1.
Alzheimer's Society of Manitoba exists so that all Manitobans affected by dementia receive the help they need today and have hope for the future.
We hope you will visit us this month, purchase a pint of Julie Berrycake and know that you are supporting a great cause while you enjoy this month's feature!